City Sightseeing Bus Tour Tbilisi is held every day. This tour is part of a full sightseeing tour Tbilisi – Mtskheta – Jvari. It is recommended for tourists who, for the first time or after a long break, come in Tbilisi and wish to explore all the most important (Must See) sights  and learn a lot of useful and interesting information about Tbilisi and Georgia.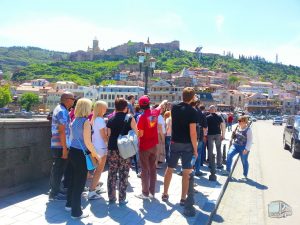 Our Tbilisi City tour is conducted on a specially equipped, comfortable, air-conditioned tourist bus. The bus has an audio guide, as well as a live guide, who conducts walking excursions of 30-40 minutes at stops in the most interesting places, without visiting which it is not possible to get to know Tbilisi. We will walk through the Old Town, visit the Sulfur Baths area, go up to the territory of the largest Cathedral of Georgia – Tsminda Sameba (Holy Trinity), walk along Shafteli street, look at the view on the Falling Tower and see many other historical places.
Start Time
10:50 or 16-50
End Time
13:40 or 19-15
Start From
Our first stop is Rustaveli Avenue, 52 (how to find?)
What to take with you
Camera or charged Smartphone and Good mood
Included

| | |
| --- | --- |
| Audio guide in English |  English speaking Live guide |
| A bottle of water for everyone | Air conditioning |

 Not included

Food. But you will have the opportunity to eat and drink lemonade on the territory of the Cathedral of the Holy Trinity.
Two tours daily. Schedule, see below.
---
Tour 1.
10:50 Rustaveli Avenue, 52
11:20 Marjanishvili Square
11:30 - 12:05 Baratashvili street
12:15 - 12:45 Holy Trinity Cathedral
13:15 - 13:35 Europe Square
13:40 Rustaveli Avenue, 52
---
Tour 3.
16:50 Rustaveli Avenue, 52
17:20 Marjanishvili Square
17:30 - 18:05 Baratashvili street
18:15 - 18:45 Holy Trinity Cathedral
Our City Sightseeing tour route gives you a chance to see all the main sights of Tbilisi and Mtskheta. Our route includes Rustaveli and Acmashenebeli Avenues., Freedom and Europe Squares . You shall ride the both sides of Kura river and have stops in the main places of sights. The amount of information that you will listen on the board of the bus will double your interest , if you hop off on the nearest stop to see the Cathedrals, Monuments and Historical Buildings closer, which you were told about by audio guide. Don't forget that audio guide text was written by a professional historian of Georgia , so you can really trust the source.
On the picture below you can see the way of the bus (but without Mtskheta and Jvary (This places visited in over tours Tbilisi-Mtskheta-Jvary or Mtskheta-Jvary)), stops and the sights that you will listen about . This picture will make it easier for you to orient. According to the tour you can hop on on any stop , stay in the bus and hop off on the same stop, but we recommend you to start from the first stop.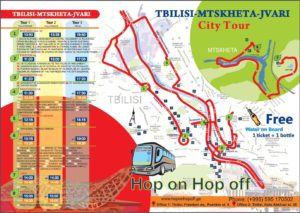 List of stops and sights located next to them in Tbilisi:
1. RUSTAVELI ave. 52 (Tower House)
1 SHOTA RUSTAVELI MONUMENT
2 CENTRAL TELEGRAPH
3 PALIASHVILI OPERA AND BALLET STATE ACADEMIC THEATRE
4 SHOTA RUSTAVELI DRAMA THEATER
5 ART GALLERY
6 ST. GEORGE KVASHVETI CHURCH
7 BIG CONCERТ HALL
8 VERA PARK
9 LURDJI MONASTERI
10 ETERNAL FLAME
11 LOWER STATION OF THE FUNICULAR
12 PANTHEON OF WRITERS AND PUBLIC FIGURES OF GEORGIA
13 CHURCH OF SAINT DAVID
14 TELEVISION TOWER
2. FREEDOM SQUARE
15 1ST CLASSICAL GYMNASIUM
16 THE HOUSE OF PARLIAMENT
17 JANASHIYA MUSEUM OF GEORGIA
18 CREATIVE YOUTH PALACE
19 PUSHKIN SQUARE
20 ART MUSEUM OF GEORGIA
21 ST. GEORGE COLUMN
22 REMAINS OF THE FORTRESS AND THE CITY BUILDINGS
3. MARJANISHVILI SQUARE
23 MONUMENT OF ALEXANDER GRIBOYEDOV
24 ST. NICHOLAS CHURCH
25 JUSTICE HOUSE
4. BARATASHVILI st.
26 MONUMENT OF N.BARATASHVILI
27 MONUMENT OF IOAN PETRITSI
28 SCULPTURE "A LANTERN MASTER"
29 SCULPTURE "BERIKEBI"
30 MARIONETTE THEATER
31 BASILICA "ANCHISKHATI"
32 RESIDENCE OF THE PRESIDENT
33 ARMENIAN CHURCH "ECHMIADZIN"
34 SCULPTURE COMPOSITION "MIMINO"
5. CATHEDRAL "TSMINDA SAMEBA"
35 CATHEDRAL "TSMINDA SAMEBA"
6. EUROPE SQUARE
36 PALACE "SACHINO"
37 BRIDGE OF PEACE
38 CABLE-WAY STATION
39 METEKHI CHURCH OF THE BLESSED VIRGIN
40 MONUMENT OF KING VAKHTANG GORGASALI
41 NARIKALA FORTRESS
42 CHURCH OF ST. NICKOLAS
43 SCULPTURE "KARTLIS DEDA" (MOTHER OF GEORGIA)
44 BOTANICAL GARDEN
45 ARMENIAN CHURCHES SURBGEVORG
46 SULPHUR BATHS
47 MOSQUE
48 TSAVKISSI WATERFALL
49 CHURCH JVARIS MAMA
50 "SIONI" CATHERDRAL
51 SYNAGOGUE
52 ARMENIAN TEMPLE "NOROSHAN"
53 THE CATHOLIC CHURCH
Adult ticket:

2 persons – 220 gel total

3 persons – 90 gel per person

4 persons  – 80 gel per person

5-6 persons – 70 gel per person

7+ persons – 60 gel per person

Children's ticket (6-12 years old)
30 gel if more of 2 person
Children's ticket (up to 5 years old):
Free. Without seat. Подробнее о бесплатных билетах