Sightseeing Bus Excursion "Mtskheta – Jvari" is held daily. This tour is part of a full sightseeing tour of Tbilisi – Mtskheta – Jvari. This short tour is recommended for tourists who want to visit only the ancient capital of Georgia, Mtskheta and the Jvari temple.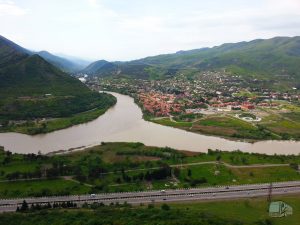 Our tour Mtskheta – Jvari is conducted on a specially equipped comfortable tourist bus with air conditioning. The bus has an audio guide system, as well as a live guide who conducts walking excursions when visiting the Jvari temple (6th century) and in the city of Mtskheta in the holiest place of Georgia – Svetitskhoveli Cathedral. At the bus stop at the temple of Jvari, besides the temple itself, tourists stop at the observation deck, from where a beautiful view of the confluence of the Kura and Aragvi rivers, described by the Russian poet Lermontov in the poem "Mtsyri", opens up. This is perhaps the most favorite place for photographing throughout Georgia. On the shore between these two rivers stands the ancient capital of Georgia – Mtskheta. Stop at Jvari lasts about 40 minutes. Next, the bus goes down to Mtskheta. There, tourists are given an hour to explore the city. The most important part of this excursion is a visit to the Svetitskhoveli Cathedral (which in translation means the Life-giving Pillar). Our guide will tell the story of this temple, and through it you will learn about how Christianity was adopted by Georgia and the stories and legends about the life of St. Nino and the ancient Kings of Georgia. Next, tourists are given time for an independent walk around Mtskheta. Someone wants to eat, taste wine in local shops from wineries, and someone wants to visit Samtavro temple.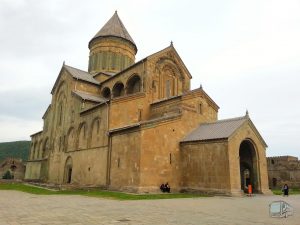 Then the bus goes back to Tbilisi to our first stop of the Rustaveli Avenue 52. On the way, the audio guide continues to tell tourists about the history and life of the people of Georgia, as well as a host of other interesting information about the Georgian language, cuisine and traditions and many more interesting information.
Arriving at the stop, we say goodbye to those who purchased tickets only for visiting Mtskheta and Jvari, and the bus continues to tour Tbilisi.
Start Time
13-40
End Time
17-00
Start From
Our first stop is Rustaveli Avenue, 52 (how to find?)
What to take with you
Camera or charged Smartphone and Good mood
Included

| | |
| --- | --- |
| Audio guide in English |  English speaking Live guide |
| A bottle of water for everyone | Air conditioning |

 Not included

Food. But you will have the opportunity to eat and drink lemonade on the territory of the Cathedral of the Holy Trinity. And eat in a restaurant in Mtskheta
Tour Mtskheta – Jvari
13:40 Rustaveli Avenue, 52
16:50 Rustaveli Avenue, 52
List of stops and sights of Mtskheta and Jvari:
2. JVARI
GREAT CROSS CHURCH "JVARI"
3. MTSKHETA
"SVETITSKHOVELI" CATHEDRAL
"SAMTAVRO" CHURCH
Adult ticket:

2 persons – 220 gel total

3 persons – 90 gel per person

4 persons  – 80 gel per person

5-6 persons – 70 gel per person

7+ persons – 60 gel per person

Children's ticket (6-12 years old)
30 gel if more of 2 person
Children's ticket (up to 5 years old):
Free. Without seat. Подробнее о бесплатных билетах