> 12 hours, > 12 hours
Duration
With Gourp, With Gourp
Schedule
Excursion Borjomi – Vardzia – Akhaltsikhe (Rabat fortress) – this is a great day trip, this trip takes all day from morning to evening. The route will be long, but very interesting!
Traveling along our route Tbilisi – Borjomi – Vardzia – Akhaltsikhe (Rabat fortress) – Tbilisi starts from our office on Freedom Square. The group, together with the guide, gets into a comfortable minibus and leaves from Tbilisi in the direction of Borjomi. I would like to note once again that all our guides are fluent in English. Throughout the day, our guide will tell you everything related to the places that you will visit and drive through, as well as everything related to Georgia, its rich ancient history, its people and traditions. The guide will answer all your questions. Ask – do not be shy!
Akhaltsikhe (Rabat fortress)
First, we will visit the city of Akhaltsikhe, in which there is a fully restored, and perhaps the most beautiful of all the fortresses in Georgia – the medieval fortress of Rabat. The fortress was created in 1578, when the city of Akhaltsikhe was taken by the Ottoman troops, and in 1628 it became the center of the Akhaltsikhe pashalyk.
On the territory of the Rabat fortress there is a museum dedicated to the Russian-Turkish war of 1828-1829. After a walk and a tour of the fortress, we leave the city of Akhaltsikhe and continue our tour of the sights of this region of Georgia.
Vardzia – a cave monastery complex
The next point of our tour will be Vardzia. Vardzia – a cave monastery complex of the XII – XIII centuries in southern Georgia – an outstanding monument of medieval Georgian architecture.
This is one of the most popular cave cities – monasteries in Georgia. In Georgia, there are 2 more similar attractions Uplistsikhe and David-Gareji. A visit to Uplistsikhe we have included in the tour Gori – Ateni Sioni – Uplistsikhe. Our excursion company also conducts an excursion to the David-Gareji Monastery. So we are in Vardzia. To explore this monastery, carved into the rock, there are several excursion routes, including one more extreme. Besides the fact that the Vardzia complex itself is of great interest and a wonderful object for photographing, 12th-century frescoes with images of Tsar George 3 and Queen Tamara are preserved in the Church of the Assumption.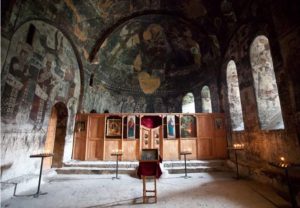 Borjomi – city and water
After exploring the cave city, we go to the city of Borjomi. Borjomi gained world fame thanks to mineral water sources. Borjomi mineral water ranks first on the list of Georgia's exports.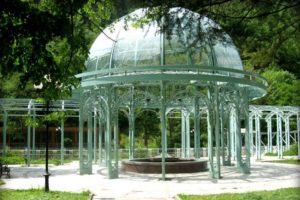 One of the active sources is located in the national park of Borjomi, where we are with you and make our next excursion.
In Borzhomsky district there are more than 200 historical monuments: fortresses, churches, monasteries. Among them stands the Palace of the Russian Tsars of the Romanovs, built at the end of the XVIII century.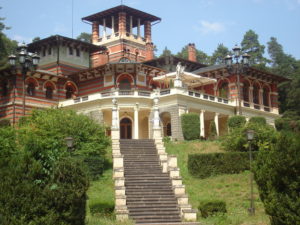 После прогулки по парку Боржоми мы отправляемся в обратно в Тбилиси.
Start Time
08-00
End Time
20:00 – 21:00
Route length
Approximately 530 km
 Clothing
Comfortable shoes (we will walk a lot)
What to take with you
  Camera or charged Smartphone and Good mood
  Included

| | |
| --- | --- |
| Comfortable minibus | English speaking Live guide |
| A bottle of water for everyone | Air conditioning |

Not Included

Nutrition. Lunch will in one of the restaurants as agreed by the group and guide.
  Tickets to the museums: Borjomi Park – 2 GEL; Vardzia – 5-7 GEL; Rabat Fortress – 5-7 GEL
Program of tour Borjomi – Vardzia – Akhaltsikhe (Rabat Fortress)
08:30 Departure from Tbilisi
Akhaltsikhe
Rabat Fortress
Borjomi
Park Borjomi, Springs of mineral water
Lunch
Lunch at one of the restaurants at the request of the Group
Adult ticket:

2 persons – 450 gel total

3 persons – 170 gel per person

4 persons  – 140 gel per person

5-6 persons – 120 gel per person

7+ persons – 100 gel per person

Children's ticket (6-12 years old)
60 gel if more of 2 person
Children's ticket (up to 5 years old):
Free. Without seat. Подробнее о бесплатных билетах